I didn't finish the nursery before Cobi was born. I think a huge part of it was that it totally snuck up on me. I didn't feel like it at the time, but I guess pregnancy did go by pretty quickly. I certainly spent many hours on
pinterest
and
project nursery
browsing for ideas and inspiration and I did get a lot of ideas but I never had a cohesive theme. I had decided on navy and green the day we found out he was a boy as well as owls as a theme. My husband and I had a bird-themed wedding, and wanted to incorporate that into the nursery somehow. Owls seemed to be boyish enough while being playful and fun. They're also versatile, so many themes can go with owls.
My ideas were all over the place, I went from bright bold colors to rustic woodland owls, to anything you can think of. I also knew we wouldn't be in our current living situation for long after our little one was born, so I didn't want to commit to anything. Well now we'll be here until November and since Cobi will be learning how to "play" soon, I want him to have a space of his own. We are officially working to finish his room!
The crib is ordered, as well as the fabric to outfit his new bed. We already had his changing table and dresser done, as well as his closet organized. Basically we'd done the bare essentials for his room before he was born.
We finally decided on a cohesive theme though. Owls, still mostly navy and blue, with a chevron theme. We'll also include a few "woodland furry friends" as well. My grandmother is currently in the process of crocheting this little beauty for his room. How cute is he!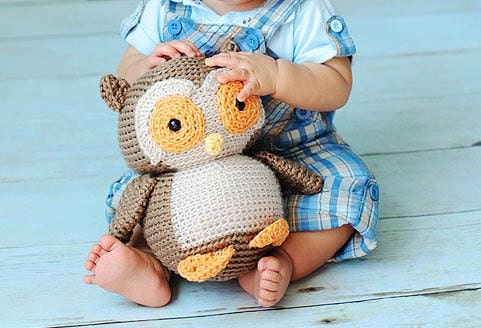 (Etsy, FreshStitches)
We will have pops of yellow as well, these are the lovely chevron prints currently on pre-order from Riley Blake.

Lovely, yes?
To do with these lovelies:
I will be fashioning a crib skirt out of the green (actually from Premier Prints since it's a Home dec fabric)
Crib sheet out of the navy blue
A baby blanket out of the green, yellow and gray
A crib rail guard out of the green home dec fabric
Also hopefully a book sling, though I think it'd be best out of the home dec fabric too. I have my eye on the yellow.
Much to do in the weeks to come!